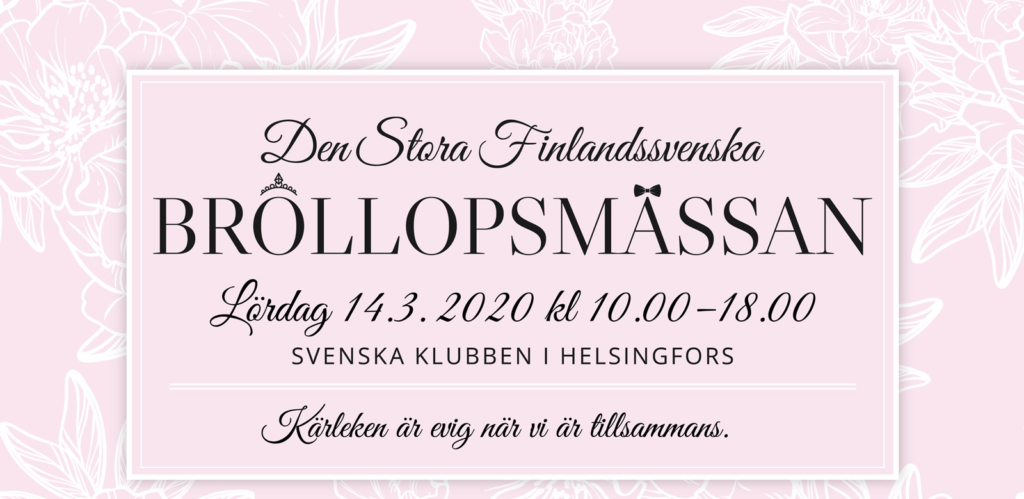 Celebrating love at Svenska Klubben 14.3.2020
You're welcome to become inspired by Finland's happiest wedding fair at Svenska Klubben! The Grand Finnish-Swedish Wedding Fair provides ideas and tips for arranging the most important day of your life. There will be a glamorous fashion-show, tips for choosing just the right products and services, and in addition to these, there will be interesting lectures by the exhibitors. The wedding-cake tasting and a glass of something sparkling and nice, which are included in the price of the ticket, will be the cherry on the top!
Preorder tickets to the venue from Tiketti are 11,50€ (incl service fee). On the day of the venue, tickets from the door cost 13€. By presenting a student card, you'll get 2 tickets for the price of 1 (only one of you has to present a valid student card)
Follow us on Facebook and Instagram: @brollopsmassanfi
#lovesvenskaklubben
#bröllopiankdammen
Are you a professional in the line of wedding business? Are you interested in our fair as a chance to market your products and/or services? If you're interested in becoming an exhibitor, we still have spots open. Feel free contact us via email, and you'll get your company presented at our fair!
Info and contacts:
brollopsmassan@svenskaklubben-helsinki.fi